By Jessica Ferri (THE LINEUP) – The only thing more terrifying than a scary movie is not being able to tell yourself it's make believe. These chilling true crime documentaries are the real deal. They cover horrifying crimes ranging from the machinations of psychopaths to impulsive brutal murders. Try them on for real-life fright; just don't say we didn't warn you.
1. "There's Something Wrong with Aunt Diane"
This HBO documentary dives into the 2009 Taconic State Parkway crash that claimed eight lives. You may remember the story of Diane Schuler, who barreled down the highway going the wrong direction at 85mph, colliding with another vehicle, and killing herself, her two-year-old daughter, her three nieces, and all three men in the other car. Her son, Bryan, five years old at the time, was the sole survivor. The documentary takes its name from a panicked cell phone call that Diane's eldest niece made to her father, saying, "there's something wrong with Aunt Diane."
Toxicology reports revealed that Schuler's blood alcohol level was 0.19, over twice the legal limit. Her stomach also contained six grams of alcohol that had yet to be absorbed, and her blood contained high levels of THC, the active ingredient in marijuana. But Schuler's husband and sister-in-law, both of whom are interviewed in this film, refused to accept the findings. They claimed that Schuler must have suffered some kind of medical event, like a stroke. Eerier still, is the extended length of the deadly drive itself. Schuler departed the campground at 9:30 a.m. The trip home should have taken an hour at most. Yet for nearly four hours, she remained at large with her captive passengers, even ditching her cell phone on the Tappan Zee Bridge. Imagining the terror of those children trapped in the vehicle—in particular, the niece who knew something was wrong—is simply blood-chilling.
2. "The Staircase"
If you liked "Making a Murderer" but wanted more in the way of gore and mystery, "The Staircase" is for you. On December 9, 2001, 911 received a phone call from novelist Michael Peterson that his wife had fallen down the stairs. Yet when the police arrived at Peterson's home, they discovered a strange scene. Blood was everywhere. Kathleen had sustained devastating injuries, including seven lacerations to her head, and a fracture of the neck cartilage, dying from loss of blood about 90 minutes to 2 hours after the injury, according to the coroner's report.
Peterson was immediately a suspect in Kathleen's murder, though he and his family, including his four children, insisted on his innocence. The subsequent trial revealed that Michael and Kathleen's marriage contained its fair share of secrets, and that Michael may have been involved in a similar crime nearly 30 years earlier, with yet another woman who died after falling down the stairs.
3. "The Cheshire Murders"
Another excellent documentary by HBO Films, "The Cheshire Murders" covers the senseless murder of Jennifer Hawke-Petit and her two daughters, Hayley and Michaela. Career criminals Steven J. Hayes and Joshua A. Komisarjevsky had planned to rob the Petits, spotting Jennifer and 11-year-old Michaela at a grocery store in Cheshire, Connecticut. Hayes took Jennifer to the bank the following morning to withdraw $15,000. There she successfully alerted the teller of the situation, who called the police. What happened next makes this doc a harrowing watch.
4. "Dear Zachary"
When his best friend Dr. Andrew Bagby was murdered in 2001, Kurt Kuenne set out to make a documentary so that Bagby's infant son would know his father. Bagby was deeply loved by his family and many friends. Who would've wanted to kill him? The shocking suspect turns out to be the mother of Babgy's child, his on-and-off again girlfriend. Though "Dear Zachary" starts off as a celebration of Bagby, who had touched the lives of so many people, the disturbing twists that follow will have you tossing and turning in your sleep. Proceed with caution.
5. "The Imposter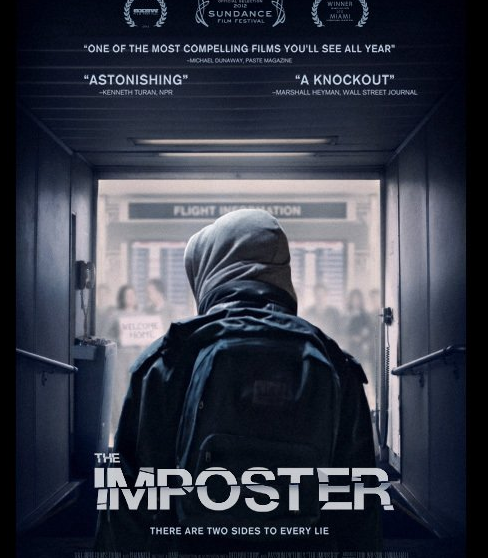 In what reads like the description of some new paranormal television show, "The Imposter" tells the story of Nicholas Barclay, who disappeared at the age of 13 in 1994, only to seemingly resurface in Spain years later. As it turns out the reappearance of Barclay was the work of French grifter Frédéric Bourdin, a charming and manipulative man who had made a career out of impersonating missing or abducted children. Though "The Imposter" is a documentary, it flows like a narrative film thanks to stylish reenactments, archival news footage, and interviews with the man who convinced so many people that he was their long, lost loved one.
6. "The Jinx"
In 1982, Kathie Durst disappeared. Her body has never been found, and the case remains unsolved. In 2000, the writer Susan Berman was murdered in her home. And in 2001, Morris Black was killed and dismembered. What do all three cases have in common? Robert Durst. The truth about what happened to these three victims is revealed piece-by-piece in this sleek series that ends on a jaw-dropping conclusion—thanks to the overwhelming arrogance of Durst himself.
7. "Capturing the Friedmans"
Initially director Andrew Jarecki (also of "The Jinx") set out to make a short film about David Friedman, who worked as a clown for children's birthday parties. But in the midst of production, both Friedman's brother and father were accused of child sexual abuse, a series of crimes that had allegedly taken place in a computer class taught out of the Friedman basement in the 1980s. Jarecki follows the reactions of David and his mother Elaine throughout the case, exposing the dark secrets of a seemingly normal middle class family.
8. "Paradise Lost Trilogy"
This epic three-part documentary tells the story of the Memphis Three: three teenage boys, Damien Echols, Jessie Misskelley, Jr., and Jason Baldwin, who were accused of the 1993 murders of three boys Christopher Byers, Michael Moore, and Stevie Branch. Police found the victims hog-tied in the woods and believed they had been killed as part of a Satanic ritual. Despite little forensic evidence, the Memphis Three were convicted in 1994—thanks to coerced confessions and character assassinations targeting Echols' preference to wear black and love of Metallica. Echols was sentenced to death, while Misskelley and Baldwin received life in prison.
For those obsessed with the class politics in "Making a Murderer", "Paradise Lost" is a wormhole of an unbelievable crime and a disturbing miscarriage of justice.
9. "Aileen: The Life and Death of a Serial Killer"
Aileen Wuornos is not the only female serial killer, but she is one of the most notorious. The subject of the narrative film "Monster", which won Charlize Theron her Oscar, Wuornos claimed that she was a sexually-abused prostitute who was just doing society a favor by removing rapists from society. Wuornos was eventually captured, and confessed to killing seven men. She was executed by lethal injection in 2002. In 2003, Nick Bloomfield released a follow-up to his first documentary about Wuornos, in which we hear from the killer herself while incarcerated in Florida as she comes to terms with her death sentence. The chilling conclusion includes a reading of her last words, which were, in part, "I'll be back."
This story was originally featured on The-Line-Up.com. The Lineup is the premier digital destination for fans of true crime, horror, the mysterious, and the paranormal.
Comments
comments